CloudX Time Lapse Dashboard Features
Purpose Built
Built for remote time lapse management.
Cloud Storage
Automatically upload and store images. Download individually or in bulk for easy management.
Remote Monitoring
Quickly view any captured frame. Share single files or entire shoots easily.
Status Heartbeat
Check camera status and view any issues or errors.
Daily Email Updates
Receive daily emails detailing the status, number of captured photos, motions triggered, and more.
Video Creation
Generate 4K time lapse videos from stored images with a few clicks, and schedule videos for automatic creation.
Status at a glance
Quickly view the latest image from your time lapse cameras and easily view status remotely. Take comfort in knowing your images are reliably being captured.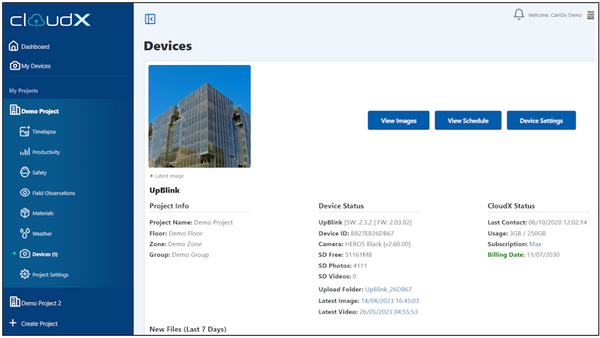 Effortless time lapse video creation
Automatically schedule time lapse video creation to view regular progress. Create multiple schedules to enhance your workflow, or manually create videos from selected images at any time. Use CloudX to view any captured images from anywhere without physical access to the time lapse camera.


Schedule a demo
Want to know more about CloudX? Our team is waiting to answer any questions you might have.
Industry Integrations
CloudX integrates directly with leading industry construction platforms including Procore, BIM 360, Plangrid, and CMiC, providing a smoother experience for every jobsite.
Ready to get started?
Purchase CloudX to begin managing and monitoring your CamDo time lapse system remotely.
Get it Now